Hot Lunch Program Now Open For Orders!
Students are bringing home a letter September 15th with directions for participating in the Hot Lunch Program (pink paper), or click on the link to see the letter now Hot Lunch Program September 2016 . Order deadline is Friday September 23rd, 2016.
Terry Fox Run Friday, September 30th, 2016.

On Friday September 30th, Madonna Catholic School will be participating in the Terry Fox Run. We ask that all students come dressed in red and white, bring a water bottle for the afternoon run and $1.00 each to donate to the Terry Fox Foundation. All students will run or walk in the afternoon to help keep Terry's dream alive. All parents are welcome to join us at 2:00 to participate as well. Together we can work to find a cure for cancer.
Picture Retake Day for Students Thursday, October 27th am
.
Swimming Lessons for Grade 1 to 4 Students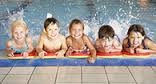 For a list of swim times beginning October 11th, go to Programs.
Red Cross Swim Kids Programs:
Red Cross Swim Kids is a 10-level stand-alone program for children five to twelve-years-old. Children learn to swim, be fit, and stay safe in a fun environment that promotes achieving a personal best and celebrates personal success. The program teaches competitive and survival strokes, as well as increasing the distance and speed that each swimmer can achieve, while focusing on making safe decisions in, on, and around the water.