SMORE this week ..... find out what's happening!
Reduce Your Footprint!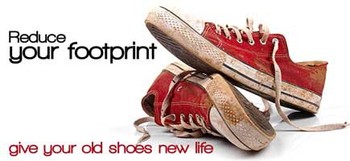 Give old shoes new life!!!  Shoes are a difficult item to recycle and are usually sent to the landfill - until now!  Strathcona County works with Soles4Souls to collect old shoes to keep them out of the landfill.  Soles4Souls takes donated shoes and distributes them where they are most needed.  If they cannot be reused, they are sent for refurnishing by small businesses in developing economies.
Student's can bring their old shoes in for donation by tying them together with the laces or an elastic and giving them to their classroom teacher before Friday October 21st, 2016. Students will receive an entry for a chance to win prizes ... one entry per pair of shoes.  Draw for prizes will be held Friday October 21st, 2016.
Swimming Lessons for Grade 1 to 4 Students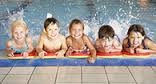 Red Cross Swim Kids Programs at Emerald Hills Pool:
Tuesday:     Grade 1     Oct. 11 - Dec. 13      9 weeks     1:00 - 1:45 p.m.
                    Grade 3      Oct. 11 - Dec. 13     9 weeks     1:45 - 2:30 p.m.
 Thursday:   Grade 2     Oct. 13 - Dec. 15     9 weeks       1:00 - 1:45 p.m.
                      Grade 4    Oct. 13 - Dec. 15      9 weeks       1:45 - 2:30 p.m.
Safe Arrival has Started!
Over the past few months, several EICS schools (ABJ, Jean Vanier and Holy Spirit) have been piloting the Safe Arrival app and we are now ready to begin using the program here at Madonna Catholic School.
Currently, you have been able to report your child's absence by leaving a message on the school voicemail, or by emailing us via our MCS website.
Safe Arrival is a new app being used by EICS to report absences of students.  Your child's safety is of paramount importance to us, and this new application allows us to track missing students much faster in the morning.
Parents with students in the pilot schools already have an account.  For those parents who don't have an account, on Monday, October 3rd, if you have provided us an email address you should of received an email from Elk Island Catholic Schools inviting you to create an account for the Safe Arrival portal.  Please take the time to review the email as it has specific login information pertaining to your child.
Using Safe Arrival you will be able to report your child's absence the following ways:
using the Safe Arrival link inside the new EICS App
Creating an account in Safe Arrival using the info in the email you receive on Oct 3rd
Downloading the Safe Arrival App using Google Play or the App Store and using the info in the email you receive on Oct 3rd
Calling 1-877-246-9970
Additional features with this software include:
Email confirmation when an absence is recorded inside Safe Arrival
Interactive callouts, allowing us to easily contact multiple people at once regarding unverified absences.
As this is new for us as well, we ask for your patience as we work out how best to use the application.  When you received the email it walks you through setting up your account.  If you encounter and issues with this process please contact the school or regsupport@eics.ab for assistance.
Please feel free to email us with your feedback and thank-you for your continued support.
Picture Retake Day for Students Thursday, October 27th am
.
Division News